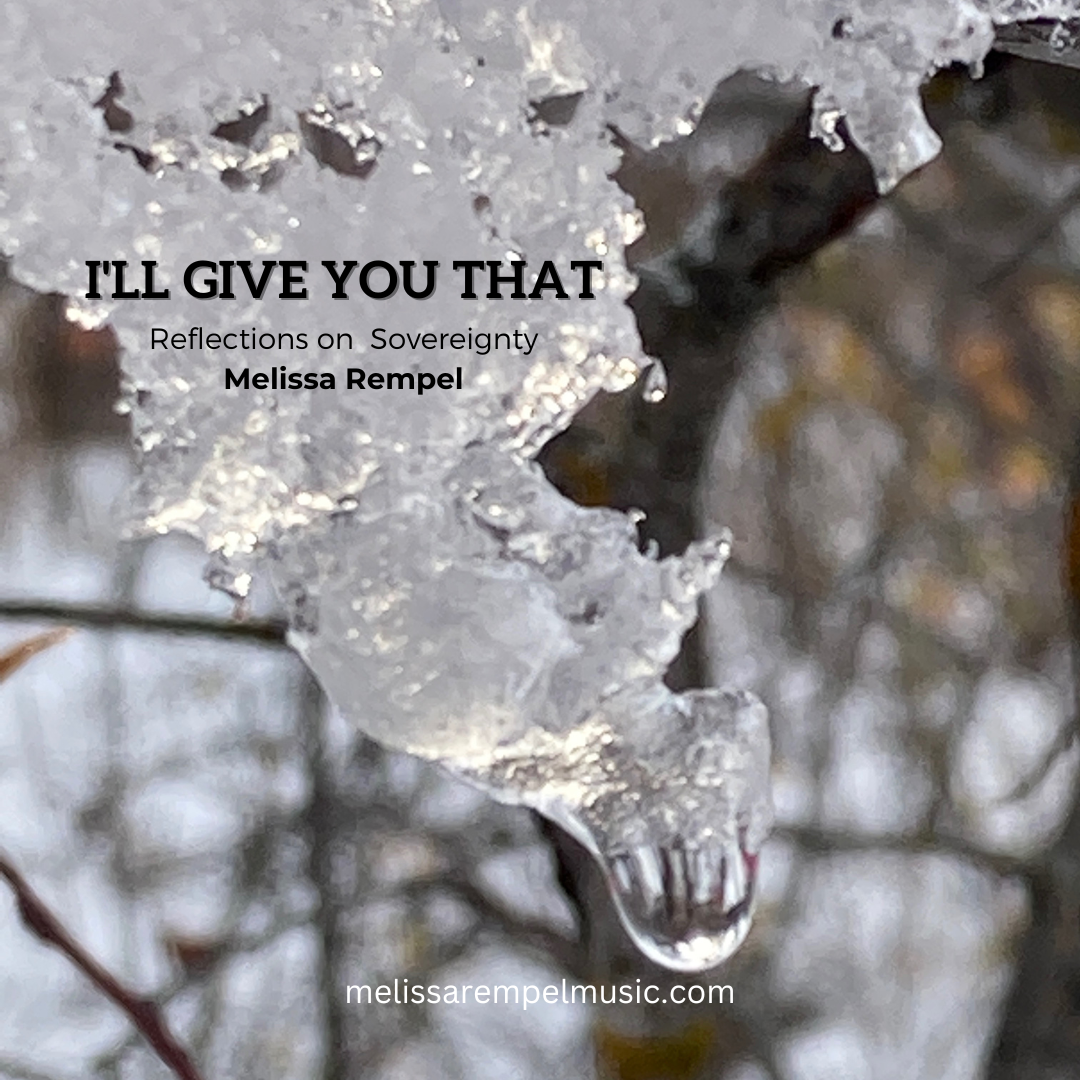 I'll Give You That
If by Sovereign you mean 
All things are woven together 
To form something beautiful 
By the end of the story… 
That Sense will come of Chaos 
And something from nothing 
Invisible made visible 
By the end of the story… 
If by Sovereign you mean 
The end result is more anticipated 
Than dictated and immovable, seen 
By the end of the story… 
Then I'll give you that. 
But if you're going to say 
in that fatalistic way 
That the choices are all made 
And there's no blooming chance 
To choose dance or no dance. 
Then I'll take it back. 
The Sovereignty of the One 
In whom all breathe and are imagined 
Is the sort that plans on Love and Love Alone. 
The thing is, with that first breath 
Came a place in all creation 
Stamped upon our chest 
Image and Design to Sovereignty incline. 
And so… 
My person 
Island and Communal Flow 
Are both immersed in one 
And on their own. 
Sovereign as I Am - 
I am Sovereign 
At the beginning 
And at the end of the story. 
I'll give you that. 
Where I live, snow doesn't stay. It falls wet and heavy and melts. I think my favourite part of spring and fall storms is the the steady "drip, drip, drip" I hear for days after. The forest was alive with this sound last time I was there and I became enamoured with the water drops. Something usually captures my attention, and the phone came out, camera ready. I missed a lot. I caught something, but it took a consistent shot in the dark to catch the light. Why? Because you can't control a drip. Water always obeys a million invisible factors in her flow. She runs on Nature's timetable. They dance, I spectate, but I am drawn in to the intimacy of a moment I am invited to share. If I wait until the water drop has formed, I can't catch it. I have to be present, I have to set the focus, get in position, and take the shot, repeatedly, sometimes catching nothing, or I will get nothing. But I want to catch that moment before Water and Gravity conspire to make the sound of the drip-drop. I want to see the world reflected in that tiny orb, and so, I make myself still. And trigger happy. Participation carries its own reward, and I capture the drop. I was not in control of Nature, she has her own rhythm, however, I owned my part in the process. I exercised Sovereignty. 
I was brought up believing that God was in complete control. I built my life, my sense of safety, my hurt and pain, my joy and triumph under that banner. I was scared. I worshipped anyway. I considered all my trials joy… for were they not of God? Friendships fragmented, work critiqued by insecure people, outlets for contribution based on marital status or gender, roles taken up or put down according to the needs of a group… and that was just me. There was pain, the putting away of my intrinsic being, the god I heard, vs. the god they heard. Then the worldview took on the World, and her unrest. Wars, famine, natural disasters, accidents, disease, things that were clearly broken, and if administered by a sovereign hand, it was a cruel one. But he gives and takes away, not so? 
He does, but not, I think, in the way I was taught to think. He gave his Mind and Spirit to humanity. Not so we would wield great power to our advantage, but, rather that we could see clearly and act wisely. In Love. He gives wisdom. He takes foolishness. Control and manipulation are set aside in favour of the participatory creativity of bringing endless possibility into manifest reality. I think this misunderstanding of sovereignty is actually one of the reasons suffering, pain and trauma are rampant in the history of the Race of Man. We surrender our personal autonomy too easily hoping the compromise will bring about our salvation, or our martyrdom, the salvation of another. 
If God is sovereign as I was raised to believe… I am Rapunzel in a tower, awaiting freedom in the perfect moment: the place where my desire and his timing intersect. I am truly a damsel in perpetual helpless distress. However, should his Sovereignty be a component of that fullness which in me dwells… I am already saved. I am already able. I have the ability to create my own escape route. I have the power of thought. The resource of true imagination. I am divinely sovereign, and consequently, responsible for that in which I choose passivity over assertion. I cannot wait for the entire path to become clear before I use the light I now possess. I cannot wait for morning in all things, some journeys begin at the behest of the moon, rather than the sun. 
I will not capture that which I desire if my waiting is done with the means safely tucked in my pocket. 
Sovereign as I Am - 
I am Sovereign 
At the beginning 
And at the end of the story.